Groups
Cookbook Team Update:
Orders are now being accepted. For more info contact the church office. The bookbook is $17.00 per book or $50.00 for 3 copies.
***Please note the following edit from the cookbook editing team: The editors of the Melrose at Your Table would like to apologize for a print error on one of the recipes. This recipe in the cookbook has the incorrect oven temperature. Located on page 94 of the cookbook, the recipe Smashed Potatoes should read corrected to oven temperature of 400 degrees. Please see the recipe here.
Melrose Prayer Shawl and Outreach Ministry
We meet on the last Saturday of the month from 9:30 to 11:30 a.m. Please plan to join us for a continental breakfast and a morning of conversation and fellowship while working on prayer shawls. Patterns, needles and yarn are provided. Also, if knitting and crocheting instruction is desired, we would be glad to assist you.

NEXT PRAYER SHAWL: SEPTEMBER 28, 2019
Melrose Social Justice and Action Committee
Recent updates from our Social Justice and Action Committee:
WIT Dinner June 12 Update:
What a great time we had with our guest from Mission Services. For more info on the work happening at Willow's Place check out: Willow's Place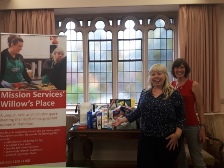 Social Justice Sunday - May 12
May 12 - Social Justice Outreach is celebrating Mother's Day! We are collecting baby formula, baby diapers, wipes and baby food for EssentialAid.org.
Please bring a small donation to the coffee hour. This is a One of a Kind Hamilton Charity that assists families of young infants to obtain much needed items to ensure a good start to life!
Their website states:
DONATIONS NEEDED!
Last year, we distributed over 70,000 diapers to children in need. Help us make a difference again this year by donating any:
-Diapers, any size - Opened packages OK
-Formula, any brand (sealed and unexpired)
-Baby Food (sealed and unexpired)
-Breastfeeding Supplies
-Coupons for Infant Formula
-Apple Sauce, Oatmeal, Fruit Snacks, Granola Bars, Canned pasta, Boxed Macaroni & Cheese, Fruit cups and other non-perishable toddler suitable snack foods
We actively support the following local, national and international organizations:
Members of our congregation participate in and raise money for Wesley's annual Case for Kids Walk-a-thon. In 2014, Melrose raised over $1,000 to continue their commitment to improving children's lives in Hamilton
Melrose members prepare and serve a healthy and delicious supper to over 200 needful and hungry people at Wesley's Day Centre once a year
Donations and volunteer hours are contributed to Wesley's No-Charge Christmas Store, which allows those who qualify to shop for their own food and gifts
Members make regular donations of clothing and household goods
WrapAround Hamilton assists those in need through a team approach. Melrose provides meeting space to WrapAround Hamilton as well as helps coordinate donations of clothing and household goods for families in need

Check out WrapAround's latest newsletter here: WrapAround Fall Newsletter
United Church Mission and Service Fund:
Melrose contributes to the United Church's Mission and Service Fund from the regular donations from our members, as well as targeted appeals, to assist with international issues of Christian social concern
Members of our congregation collect used stamps to donate to the Leprosy Mission. The stamps are then sold to stamp processors and purchasers to support treatment for leprosy
Melrose supports this organization's efforts to improve global food security and food assistance in areas around the world at risk of hunger and starvation through lunches and special events
Outside Groups at Melrose
Weekly groups:
Brownies and Guides
Melrose Carpet Bowlers
STEM Camp
Tai Chi
Yoga
Pilates
Ontario Early Years Registered Programs
LeapYear Education
Sportball Hamilton
West Hamilton and Ancaster Soccer
Tenants:
Occasional, Weekly, and Long-Term Space Use
Use of facilities can be arranged through the office at (905) 522-1323.