Groups
Melrose Prayer Shawl and Outreach Ministry
We meet on the last Saturday of the month from 9:30 to 11:30 a.m. Please plan to join us for a continental breakfast and a morning of conversation and fellowship while working on prayer shawls. Patterns, needles and yarn are provided. Also, if knitting and crocheting instruction is desired, we would be glad to assist you.

NEXT PRAYER SHAWL: MAY 25TH
Melrose Social Justice and Action Committee
Recent updates from our Social Justice and Action Committee:
WIT Dinner June 12 Update:
What a great time we had with our guest from Mission Services. For more info on the work happening at Willow's Place check out: Willow's Place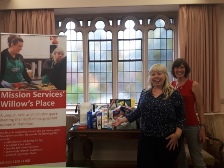 Social Justice Sunday - May 12
May 12 - Social Justice Outreach is celebrating Mother's Day! We are collecting baby formula, baby diapers, wipes and baby food for EssentialAid.org.
Please bring a small donation to the coffee hour. This is a One of a Kind Hamilton Charity that assists families of young infants to obtain much needed items to ensure a good start to life!
Their website states:
DONATIONS NEEDED!
Last year, we distributed over 70,000 diapers to children in need. Help us make a difference again this year by donating any:
-Diapers, any size - Opened packages OK
-Formula, any brand (sealed and unexpired)
-Baby Food (sealed and unexpired)
-Breastfeeding Supplies
-Coupons for Infant Formula
-Apple Sauce, Oatmeal, Fruit Snacks, Granola Bars, Canned pasta, Boxed Macaroni & Cheese, Fruit cups and other non-perishable toddler suitable snack foods
Social Justice Sunday - March 24
In the response to devastating disasters in the Asia Pacific region, United Church people have given over $23,000 since October 2018 toward ecumenical humanitarian relief efforts. Money raised on our social justice Sunday will go to Mission & Service to support this worthy cause. You can also donate directly to Mission & Service by marking it on your envelope at church on Sunday. For more information check out: https://www.united-church.ca/news/tsunami-explosion-indonesia

March 2019:

Did you know that we collect stamps for the @LeprosyMission ? The rarer the better! Drop them off at the church office and we will make sure they make it where they need to. #effecthope #healing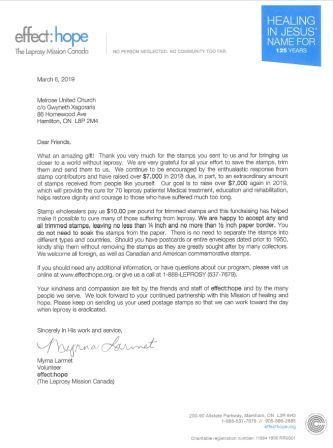 Feb 2019:
Social Justice and Outreach Sunday : March 24th
Come to the Parlour after church and enjoy some Filipino Desserts and egg rolls. All money raised will go to support United Church Mission Services to the outreach work in areas hit by earthquake, tsunami and monsoons.
From UCC Website:
Japan, China, Hong Kong, and the Philippines have all sustained major damage as massive typhoons swept across their countries last fall. In addition, Indonesia experienced two significant earthquakes that cost thousands of lives, many lost in the tsunami that followed the latest earthquake. These disasters also destroyed vital transportation and communication links making emergency response challenging.
In the midst of this, United Church Mission & Service partner ACT Alliance, working with other partners in the region, is responding to these devastating events with medical teams to treat the injured, damage assessment teams, food, shelter, and agricultural support to replant crops. They are concentrating their resources to reach the most remote and underserved communities. United Church donations will support this critical work.
Please include the people of the Asia Pacific Region in your prayers as they face the long and difficult journey from emergency response to reconstruction and recovery.
Jan 2019:
Thanks everyone!
A message from the administrator at the Dundas Retirement Home stated: "I want to thank you for all your help the residents were given your presents today and loved them all. Could not of been done without your help. Thank you so much. "
The social justice team thanks for all the soap, facecloths and socks, razors and clothing! The car was filled over twice with wrapped gifts for the seniors at Dundas Retirement Home. We had leftovers that were shared between Interval House, Helping Hands and the Aboriginal Women's Centre. So thanks to all folk at Melrose! Truly a GIVING Church.
Check the facebook page out for pictures of the presents.
Also thanks to Nicola and Chris for providing wonderful carol leadership on Christmas Day to the seniors in the Home! It was a GREAT Christmas Day!!
What does giving look like?
St Paul's United Church donated knitted hats, mittens and boxes of chocolates. Melrose United Church donated shirts, coats, sweaters, socks, undershirts, and 33 hygiene kits that contain soap, Facecloth, toothpaste, toothbrush, shampoo, moisturizer, razors, and other necessary sundries for personal care.
Together these donations have made 33 seniors ( all with no other family) at Sunday retirement home, have a really wonderful Christmas.
Thanks to absolutely everyone who made this wonderful gift giving happen.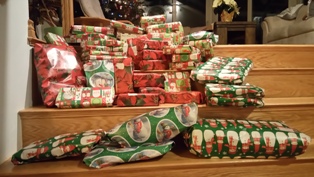 On Dec 12 our Melrose women in touch potluck supper hosted two fantastic guest speakers: Rev Chalmers and Karen. Rev Chalmers spoke about his work as a chaplain at the Hamilton Detention Centre. Karen was from The Bridge, further down Barton Street. She spoke about the men who live and are assisted back into society after leaving the Detention Centre. Melrose congregation provided 20 personal hygiene kits for the men who pass through the Bridge, and a Christmas gift of a pullover and socks for each resident. Attendees of the supper brought in socks, soap, deodorant, toothpaste and toothbrushes as donations for residents of the Bridge. It was a great evening learning about reaching out through Christ and through compassion to those folk who are in need in our city.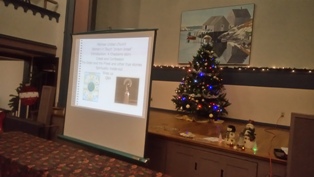 We actively support the following local, national and international organizations:
Members of our congregation participate in and raise money for Wesley's annual Case for Kids Walk-a-thon. In 2014, Melrose raised over $1,000 to continue their commitment to improving children's lives in Hamilton
Melrose members prepare and serve a healthy and delicious supper to over 200 needful and hungry people at Wesley's Day Centre once a year
Donations and volunteer hours are contributed to Wesley's No-Charge Christmas Store, which allows those who qualify to shop for their own food and gifts
Members make regular donations of clothing and household goods
WrapAround Hamilton assists those in need through a team approach. Melrose provides meeting space to WrapAround Hamilton as well as helps coordinate donations of clothing and household goods for families in need

Check out WrapAround's latest newsletter here: WrapAround Fall Newsletter
United Church Mission and Service Fund:
Melrose contributes to the United Church's Mission and Service Fund from the regular donations from our members, as well as targeted appeals, to assist with international issues of Christian social concern
Members of our congregation collect used stamps to donate to the Leprosy Mission. The stamps are then sold to stamp processors and purchasers to support treatment for leprosy
Melrose supports this organization's efforts to improve global food security and food assistance in areas around the world at risk of hunger and starvation through lunches and special events
Outside Groups at Melrose
Weekly groups:
Brownies and Guides
Melrose Carpet Bowlers
STEM Camp (Summer 2018)
Hamilton Public Library
EarlyON Summer Programming
Tai Chi
Yoga
Pilates
Ontario Early Years Registered Programs
LeapYear Education (Fall 2018)
Sportball Hamilton (Fall 2018)
Tenants:
Occasional, Weekly, and Long-Term Space Use
Use of facilities can be arranged through the office at (905) 522-1323.