Child and Family Programming
Melrose Family Ministries
Hello amazing Melrose Families!
It is hard to believe that we are in our last month of programming before the Summer Break!
There are lots of exciting activities being offered for families in the next month!
Sunday May 26th Coffee and Conversations - We want to hear from you! Join is in the parlor for a time to share about the Family Ministries program at Melrose.
Sun June 2nd Walk for Wesley - Encourage your kids to get some sponsors, or join us at Bayfront Park for the walk!
Friday June 7th TGIF/ Wrap-Up Party- It's our final TGIF of the year! Join us at 6:30 for a potluck dinner and fellowship. Darren the Entertainer will also be joining us to do some magic and other fun activities.
Sun June 9th Sunday School Picnic - Meet us at Dundas Driving Park for an outdoor service and picnic lunch afterwards.
Fri. June 14th Youth Group Escape Room - Message Meg if interested!
Sun June 16th - Please join us for Rev.Phillip's last service at Melrose. This will be an all ages service, and the children will be presenting them with a special gift they have been working on.
Children's Music Program - Chris Palmer is taking a leadership role in launching a new children's music program at Melrose. Please talk to him for more information and stay tunes with updates!
Hope to see you all out at some of our events!

--Meg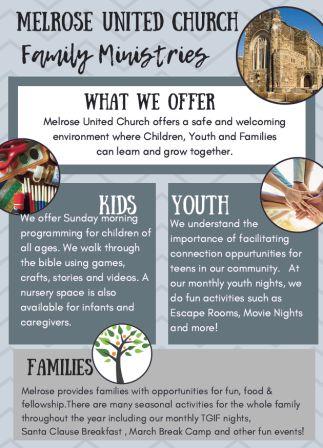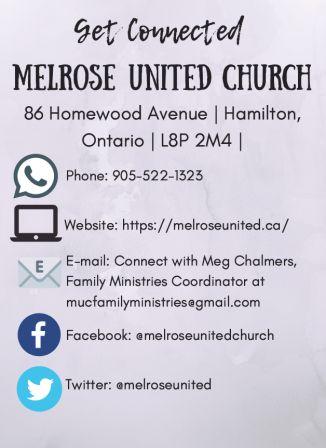 Who We Are
We are an enthusiastic and vibrant group of children and adults who learn about living together in God's world.
What We Offer
Melrose United Church offers a safe and welcoming environment where Children of all ages can learn and grown together. We believe in having the children participate in many parts of church life and worship, so we try to have the children present during communion, baptisms and other important events.
Sunday School - Children of all ages are invited to participate in Sunday School during the Sunday morning service. We will share in teachings from the bible as well as provide some fun interactive learning activities to help nurture their faith
TGIF - Occurring the approximately 6 times per year, TGIF (thank God it's Friday) is an opportunity for children and families to connect through the week. The evening includes a potluck dinner, fellowship and some seasonal activities and games for the kids.
Special Events - Melrose United Church offers a variety of special events throughout the year that allows children and families of all ages to connect and share in fun and fellowship.
Where We Meet
Children are invited to go directly to the Kid's Corner in the Sanctuary at the start of the service. Midway through the service the children are invited to hear a special lesson at the front of the sanctuary. Afterwards, they will go to the auditorium for Sunday School. Those with infants are welcome to use the Church Nursery.