Worship
Worship with us at home! Click on the link on the right or the image below to enjoy the video of our worship. You can also download the bulletin and Sunday School at home.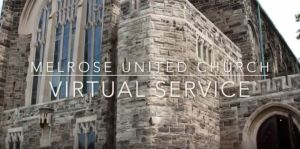 Click on the image above to access our youtube channel with all services we have uploaded.
Melrose Worship Services
Melrose worship services blend contemporary and traditional elements, with a focus on thoughtful sermons and appealing music. Our Choir warms us up and provides wonderful punctuation to the liturgy and scripture readings.
Services are held in the magnificent sanctuary, surrounded by a colourful array of stained glass windows. (For more about our windows, you can download a booklet or take a tour through our photo galleries. Visit our instagram page to see colour photos paired with the booklet.
There are plenty of friendly faces to welcome you, so please join us and stay for refreshments and even a chat afterward.
Melrose This Week
To play our part in helping to contain COVID-19 and keep each other safe, we have suspended all Melrose United Church worship services and events until further notice.
Supporting Melrose financially during this time:
The Melrose staff team (and volunteer base) continues to do work behind the scenes even though we cannot use the building to worship together. If you are looking to support the ongoing work of the church you can:
1. Sign up for P.A.R. (preauthorized remittance) through the office. 2. Make a one time or ongoing donation through Canada Helps.Org 3. Send a donation through e-transfer to donations@melroseunited.ca.
All donations are tax receiptable. The office team or treasuer will notify you that your donation has been recieved and can answer any questions about tax receipts or use of your donation.