Welcome
Join us for worship on Sunday mornings at 10:30 a.m.
News @ Melrose:


Ministry position available
We are searching for a new full time minister. Please see our Living Faith Story and Transition Team Report for more details. All inquiries can be sent to: searchcommittee
@melroseunited.ca
It's finally here! Our cookbook is coming hot off the press. Pick up your copy today!
$17.00 per book or $50.00 for three (check or cash, check payable to Melrose United Church). All proceeds will go to the operations budget.
The cook book will be available at the end of this week. Orders are now being accepted.
For more info contact the church office.
***Please note the following edit from the cookbook editing team: The editors of the Melrose at Your Table would like to apologize for a print error on one of the recipes. This recipe in the cookbook has the incorrect oven temperature. Located on page 94 of the cookbook, the recipe Smashed Potatoes should read corrected to oven temperature of 400 degrees. Please see the recipe here.

Special Upcoming Events:
It's summer time!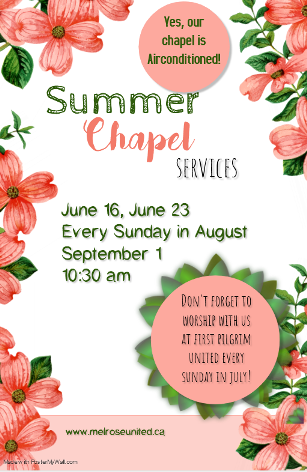 Looking to support our work? Donate online here:
Greening Our Sacred Space
Melrose had been looking at our environmental footprint and 'Greening our Sacred Space' for a number of years. At our Annual General Meeting in February 2011 we discussed and approved Energy Planing including replacing our aging boiler and installing solar panels.
Boiler replacement and solar panel installation were both completed during the summer of 2011.
These initiatives have the potential to significantly reduce our net energy consumption and help in our stewardship of God's world. Bonus: Going 'Green' means using fewer resources and saving money which will help to put our bottom line 'in the Black'.

Each month we receive an update on the number of trees our solar panels have "saved" through our carbon offset.

In May 2019 we offset 26 trees!


A big thanks to...
Melrose United Church is thankful to receive a grant from The Clark Family Foundation Fund at Hamilton Community Foundation. For more info about how the grant is used please click on the image below.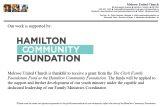 Follow us on Facebook and Twitter! 









United Church Links