Welcome
Melrose Worship and Events
COVID-19 Response
To play our part in helping to contain COVID-19 and keep each other safe, we have suspended all Melrose United Church worship services and events until further notice. Check out our worship page for links to weekly virtual services, PDF bulletins, announcements and Sunday School at home. For updates on events and building operations check out our events page.
Supporting Melrose financially during this time
The Melrose staff team (and volunteer base) continues to do work behind the scenes even though we cannot use the building to worship together. If you are looking to support the ongoing work of the church you can:
Sign up for P.A.R. (pre-authorized remittance) through the office.
Make a one time or ongoing donation through CanadaHelps.org
Send a donation through e-transfer to donations@melroseunited.ca.
All donations are tax receiptable. The office team or treasuer can answer any questions about tax receipts or use of your donation.
Melrose Vision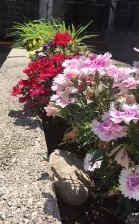 To respond to God's call by being a people of faith who open our hearts and minds to the true power and love of Jesus Christ.
To live our faith by providing within our changing community a welcoming environment which encourages people of all ages to care for and accept one another.
Greening Our Sacred Space
Melrose had been looking at our environmental footprint and 'Greening our Sacred Space' for a number of years.
Boiler replacement and solar panel installation were both completed during the summer of 2011.
Each month we receive an update on the number of trees our solar panels have "saved" through our carbon offset.
In April 2020 we offset 26 trees!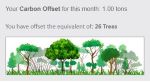 A big thanks to...
Melrose United Church is thankful to receive a grant from The Clark Family Foundation Fund at Hamilton Community Foundation. For more info about how the grant is used please click on the image below

United Church Links