Welcome
Worship with us every Sunday 10:30 am
News and Events @ Melrose
Melrose Cookbook
It's finally here! Pick up your copy today!
$17.00 per book or $50.00 for three (check or cash, check payable to Melrose United Church). All proceeds will go to the operations budget. To order see here.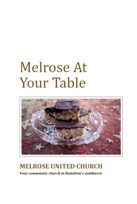 Inclement Weather Status: Normal Hours

Looking to financially support our work?
There are a number of ways you can financially support the work of Melrose United Church.
1. Regular Sunday offering
2. Sending in a one time donation to the church office.
3. Signing up for monthly PAR (pre-authorized remittance) through the office.
4. Donating online through CanadaHelps.org
Donations to Melrose are tax receiptable. For more information on donations contact the church office.
Greening Our Sacred Space
Melrose had been looking at our environmental footprint and 'Greening our Sacred Space' for a number of years.

Boiler replacement and solar panel installation were both completed during the summer of 2011.

Each month we receive an update on the number of trees our solar panels have "saved" through our carbon offset.

In October 2019 we offset 18 trees!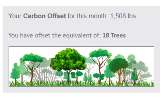 A big thanks to...
Melrose United Church is thankful to receive a grant from The Clark Family Foundation Fund at Hamilton Community Foundation. For more info about how the grant is used please click on the image below

United Church Links